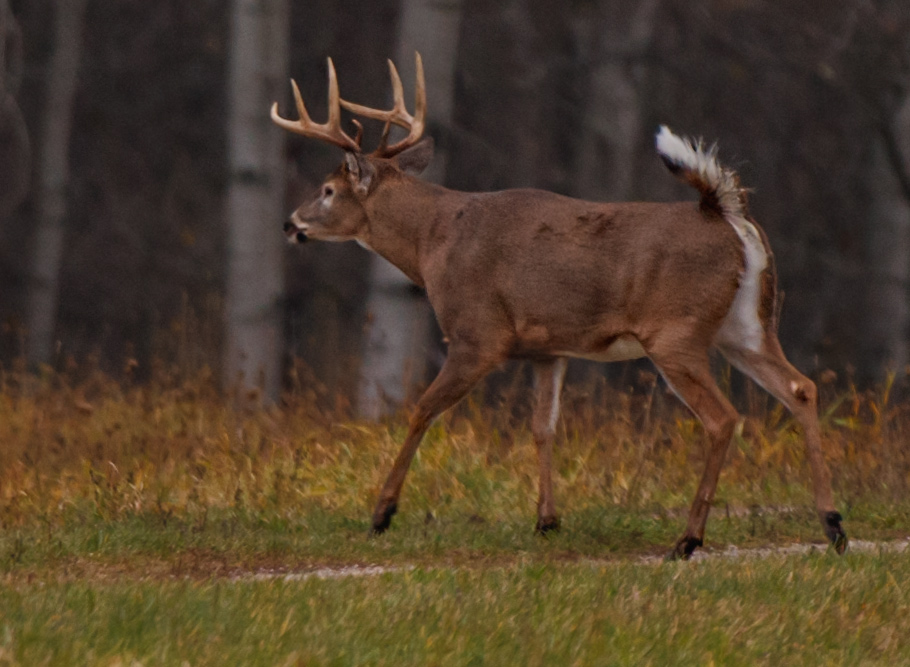 10 Killer Tips for Taking Monster Whitetail Bucks
Taking Exceptional Deer Requires Using Exceptional Tactics. You won't bag a trophy by using standard techniques that everyone else uses. In fact, it probably doesn't even matter if there are big bucks in the area you hunt. The truth is that if you're using all the normal tactics you won't get the monster. The really BIG bucks are old bucks. They don't grow old by falling prey to the normal tactics the majority of hunters use. Make sense? You must use big buck tactics to consistently bag big bucks.
You must hunt where big bucks live! Now don't start groaning… it's so obvious, yet how many days or seasons have you spent hunting in areas where you never saw a really big buck? Part of bagging a huge buck is maximizing your chances of finding one or more. You must realize that not all areas hold even one really big buck, let alone a few. But it is a fact that some parts of different counties in the country hold many large bucks within a given area due to quite a few factors. Things like cover, food sources and other nutrition, hunting pressure, and genetics play a huge role in finding areas that hold big bucks. If your own scouting, or the testimonies from trusted sources, can't verify the existence of large bucks in the area then your chances are getting real slim for finding that monster buck. It is so obvious – but we sometimes deceive ourselves. We HOPE they're there. If your overriding goal is to find that monster – you need to find out where they are and hunt there. You can't shoot what doesn't exist.
Be selective in what you shoot. Don't shoot small bucks. Think about this – in most cases after you harvest your buck you're done for the season – so if your goal is to shoot a monster why do you harvest a smaller one? Are you sold out to finding the really big one? If so, let the smaller ones go, let them mature into bigger bucks, and wait for your monster to appear. Most veteran hunters that shoot big bucks will tell you that the larger bucks follow the smaller ones out because the big ones are much more weary. That's how they get to be monsters. If you're satisfied with shooting a smaller buck than you set your goal to shoot, then you're compromising and your interest and desire are lacking. One more thing on this tip: immature deer hunters don't understand how the mature bucks think and end up taking the smaller bucks because of it. If you're committed to taking the big one, don't take the first buck you see unless it meets your goal.
You'll find that big bucks will frequently have wet feet. Huh? Yep – find areas where there is a creek bottom or low-land wet areas such as a swamp and other wetlands. Talk to the experienced hunters who have shot big bucks…. most of them will tell you that big bucks like to frequent the heavy cover and are loners in these areas. They like the thick cover the wetlands produce because it gives them security. Also, deer are excellent swimmers. It is nothing for them to swim major rivers, let alone creeks and lakes. When pressure increases the big bucks head for cover. In fact, it is not unusual for islands in lakes to hold more than one large buck. You may have a hard time approaching them but many a survey has shown that they hide out there.
Stay away from the crowds and your hunting buddies in the field. Is the area you hunt frequented by lots of other hunters? Do you have to share access to these areas? The more human traffic in a given area the less chance you have of finding that big ole buck. Obviously, your odds drop quickly for finding trophy deer in a limited size area. Find an area more remote or that has limited access for others to use. You must think of increasing your odds if you're going to find that big one and staying away from others in the field will help you do that. Be a loner when you hunt for big bucks.
Let the experienced and successful hunters be your role models. It's no different than any sport or avocation. If you want to be great, if you want the big prize, if you really want that big buck you need to learn and do what other successful whitetail hunters have done to harvest their big bucks. While no situation is identical, remember that the 1% or 2% of the top deer hunters are very disciplined and have developed methods and skills that work consistently. They know and talk to others about deer locations, sightings, behavior, etc. Luck has helped some over time but by and large the hunters who take the big ones year after year know things you don't. Or perhaps they are more persistent.
Big, Old Bucks are unique and you must adjust your hunting accordingly.Some say you have to treat them like a different animal or a different species if you're going to take one. Besides being older, they're wiser, heavier, more mellow, slower, and much more deliberate in their actions. The fact that they got to 4, 5, or 6 years old is an indication that they found a safe way to exist and avoid the hunters. These big boys won't typically run at the slightest pressure – they may hold tight. The younger, less experienced bucks will flee and possibly run into another hunter. I've heard story after story about how smart the old bucks can be – they'll swim, crawl, hold tight in cover, and use their natural color and stealth methods to avoid even the most experienced hunters. You must use different tactics for these big boys. Prepare to use every sense that you have and adjust your methods to maximize your odds of even seeing and shooting one.
Can you predict the actions of the buck you seek and can he predict or pattern your movements? No old buck is real predictable – it just doesn't make sense that he'd live long if he was. So think outside the box, find him where he is and use great skill to locate and take him. In the same way, don't you think that the real weary bucks can pattern you as you go to your stand or blind, as you make noise going through the woods, etc.? Avoid going to the same area a lot. Hunt different areas now and then. Big, old bucks learn and adjust. You must do the same. Change up your plan of attack, the way you enter an area, etc.
Hunt long and often. There is no exception to this rule. Big bucks are seldom taken by hunters who don't spend lots of time in the field. If you only hunt a couple hours in the morning and a couple more in the evening you're missing some of the best hours to bag a big buck! Lots of B+C bucks are taken in the late morning and noon hours. Surprised? While most hunters are heading to lunch at the local diner or taking a nap, the more successful hunter that is set on taking a large buck will stay in the field and be mindful that the big ones may be moving at this time. It's not unusual for a big buck to be scared or pushed into other areas by hunters leaving in late morning. Also, during the rut lots of large bucks have been seen checking their scrapes during the noon hour.
And finally… flexibility is the key to success. If you've been hunting an area and haven't seen any large bucks there's a few reasons why. Could be your approach into the area, could be scent, could be your stand placement, etc. There's an old saying that rings so true in these situations: "the definition of insanity is doing the same thing over and over and expecting different results!" If you're hunting the same stand season after season, if you're not hunting long hours, if you have lots of hunting pressure in the area, etc….. then doing the exact same thing over and over isn't likely to produce a big buck. If that area doesn't hold big bucks you sure aren't going to harvest a big buck there. Be flexible – change your tactics, change stand locations, do some more scouting, do some stalking, go into the area from a different direction. Hunt alone. Be stealthy. Study the area. Get maps of the area. Plan your attack. Figure out a way to hunt the heavy cover areas. Success comes to those who adjust their thinking, then their actions.
So there you have it. The 10 KILLER Tips above are real nuggets. Please take time to study each tip and truly assess where you're at in your quest for that elusive buck. You will be rewarded over time for your diligence and attention to the details. Get out in the field, scout those areas, plan your approach and tactics. Be mindful of weather changes and other factors that will put deer on the move.
All the best with your hunting, Jack's Sport Shop