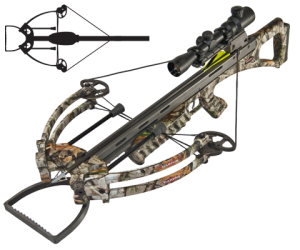 Jacks Sport Shop in Northern Michigan has the 2013 Darton Crossbows in stock.
If you are looking for the complete package of quality, reliability, balance and performance, all at a good price, you'll find everything you need right here. We suggest you follow your instincts and give DARTON CROSSBOWS a try! You'll discover what thousands of your fellow sportsmen have in Northern Michigan that Darton crossbow are simply the best.
The Serpent is Darton's AWARD WINNING and BEST SELLING CROSSBOW! The compact frame with a trigger forward design has raised the bar in crossbow evolution. Proven performance, feel and accuracy are what you get from this crossbow.