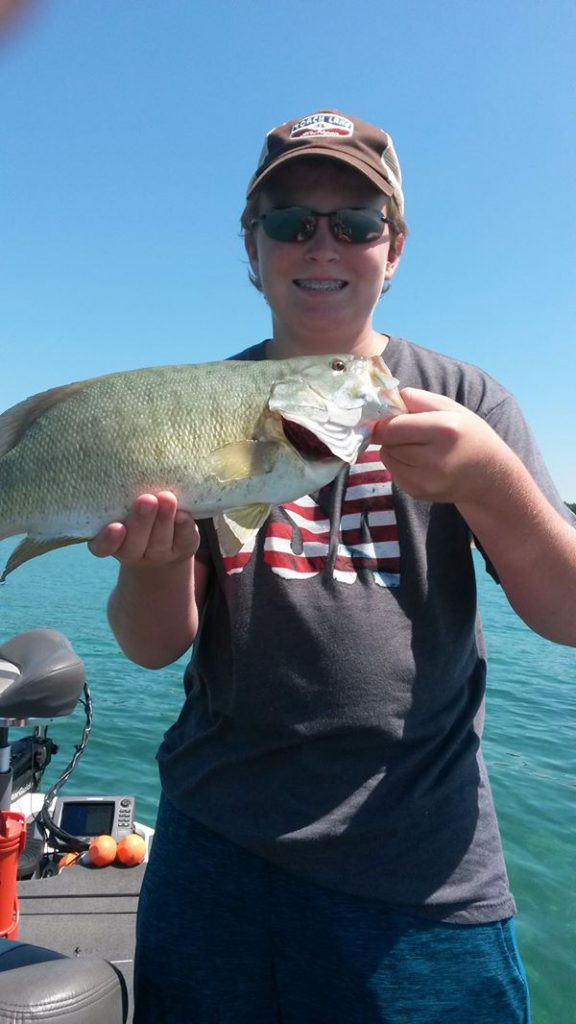 Nice smallmouth being caught on east grand traverse bay out of elk rapids stop by and we will tell you what they are biting on
Northwest Lower Peninsula Fishing Report
Harbor Springs: Most lake trout anglers were fishing from Harbor Point and northwest of the bay. Many fish were suspended 30 to 60 feet off the bottom in 140 to 200 feet but others were caught near the bottom in 100 to 120 feet. Anglers are waiting for a decent thermocline to set up and stay in the area.
Petoskey: Lake trout fishing was hit-or-miss in Little Traverse Bay. Most boats were fishing the Harbor Springs side. A few lake trout were taken near the bottom in 120 to 130 feet between 9-Mile Point and Petoskey. Fishing at the mouth of the Bear River in the Bobber Hole was slow with only a small pike taken. Water levels were a bit low on the Bear River but a couple steelhead and small brown trout were taken on worms or spawn. Those fishing the breakwall caught smallmouth bass and rock bass.
Charlevoix: Boat anglers found lake trout near North Point when fishing just off the bottom in 135 feet. Those fishing the channel were starting to catch a few more legal size smallmouth bass but they were putting in their time to get them. Freshwater drum were taken on worms or leeches on the bottom.
Traverse City: In the East Bay, lake trout fishing was very good near Deepwater Point when trolling or jigging and at the south end of the bay when trolling. Smallmouth bass were caught in 10 to 15 feet south of the M-37 boat launch. The Elk River was slow with only a couple smallmouth bass taken. In the West Bay, lake trout were caught when trolling across from Elmwood Marina on the east side. Fish were caught south of M-22 on the west side but the action was very slow at times. Pike fishing in Northport was slow. The Boardman River was slow with only a few panfish or small bass taken.
Lake Leelanau: Was producing a good number of walleye for those trolling a crawler harness in 30 feet.
Leland: Still had good lake trout fishing on the First and Second Banks. A few chinook salmon were caught on the First Bank and around North Manitou Island. Most of the salmon were taken on spoons and the lake trout were taken on spin-glo's behind cowbells, dodgers or spinners.
Platte Bay: Good numbers of lake trout were caught by those trolling spoons and spin-glo's behind dodgers and cowbells.
Benzie County: Inland lakes were producing walleye, rock bass and small perch.
Lake Missaukee: Was producing some bluegills.
Manistee: Surface water temperatures were near 50 degrees. Chinook salmon are starting to show up and were caught when trolling south in 100 to 150 feet. Lake trout were caught to the north in 120 to 180 feet. A small number of coho and steelhead were also caught. Spoons and cut bait were producing the best. Pier fishing was slow.
Ludington: Surface temperatures here were about 47 degrees. A 24 pound chinook salmon was caught recently in 100 to 180 feet. Steelhead and lake trout were also caught. A small number of chinook were caught in the basin and just outside the piers in 30 feet as well. Spoons and meat rigs were the ticket.
Pentwater: Anglers trolling 40 to 70 feet down in 100 to 160 feet caught chinook and coho along with the occasional steelhead on spoons. Lake trout were taken near the bottom with paddles and flies. Pier anglers caught smallmouth in the channel with crawlers near the bottom.
Pentwater Lake: Bass anglers caught fish along the edge of the weeds in 12 to 20 feet when casting crank baits. Anglers fishing Longbridge Road caught bluegills, yellow perch, and smallmouth bass when drifting worms under a bobber.