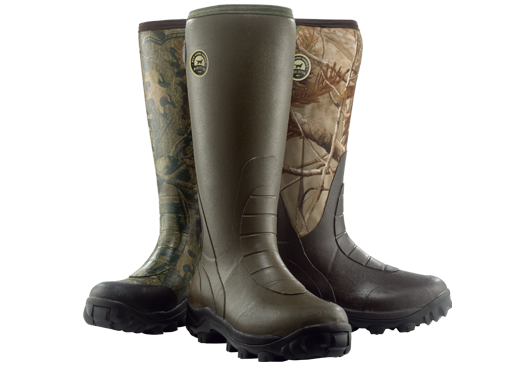 At Jack's Sport Shop, we carry many reliable and popular boot brands such as Red Wing, Irish Setter, Lacrosse, and Wolverine.  We also have a stock of Made in the USA Xtra Tuf Boots, and Made in the USA Bates Tactical boots.  We stock many styles and sizes here at the store, and can order any of the current boot models from the manufacturer at no extra cost to you.  Check in at the shop frequently, we also have great closeouts on discontinued footwear.
About Red Wing Shoes
Excellence is a standard which transcends the test of time. For over a century Red Wing purpose-built footwear has been at the spearhead of innovation in the standard of excellence for work boots.
Around the turn of the 19th century a Red Wing, MN shoe merchant named Charles Beckman saw a local necessity for shoes specifically designed for the demanding work of industries such as mining, logging and farming. The rigors of these jobs required footwear which was tough enough to outlast harsh working conditions, but Beckman envisioned a shoe that was also comfortable enough for the hardworking people who wore them. Beckman set out to develop work boots to fill this need and in 1905 he and fourteen investors opened a company that would change the market. Beckman named his company Red Wing Shoes, and thus a new standard for excellence was born.
Over one hundred years has passed since our founding and our commitment to producing only the highest grade footwear remains as unwavering as Beckman's vision. Our products consistently perform in environments spanning from the Mideast oil fields to the Midwest corn fields. Red Wing boots protect workers in more than one hundred countries across the world, an accomplishment built by years of hard work, endurance and the promise to never compromise on our quality.
A testament to that promise can be found in our Heritage collection which is made up of footwear that represents the American ideals of prosperous work and excellence. All the styles in the Heritage collection are designed and built just as they were fifty, sixty and even over eighty years ago and are all made using premium Red Wing Shoe Company leather from our very own S.B. Foot Tannery. They are handcrafted to the specifications which made each style timeless when they were first introduced.
Red Wing products are proven to perform and outlast. Behind each pair of shoes exists over a century of experience. So whether you are buying footwear, garments or accessories, rest assured that the Red Wing logo stands for a standard in excellence like no other.
Red Wing Shoes: Work is our work.
Additional Red Wing Shoe Company footwear:
Hunting and Fishing Footwear
www.irishsetterboots.com
Irish Setter is a brand that stands for innovation. We introduced ourselves in 1950 with the first of our breed, boot style 854. This distinctive boot was built using rich Red Russet leather, the color of an Irish Setter hunting dog. It was with that boot our tradition of loyalty to hunters began.
Our boots combine the determination of the hunt with the pride of a day's work well done. Our commitment to the sport is what drives us. We are in the blinds, the stands, the swamps and the fields. We are tough enough to play hard and we work even harder. We are up before the dawn and stay long into the dusk. We are proud to be known as 'the hunting boot that never quits.'
Like the loyal bird dogs who accompany their owners into the fields and woodland, Irish Setter boots don't let up and don't let down.
Irish Setter: The Hunt Never Ends.