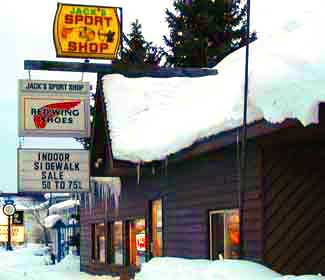 Welcome to Jacks Sport Shop. The Detroit Free Press listed Jack's Sports Shop as one of the Top 3 Sporting Goods Stores In Northern Michigan! We have been in Kalkaska Mi since 1965.
We now have an Ebay store please click on the link to check it out, Why pay Retail when YOU can pay Below WHOLESALE!!
Dan Doherty owner of Jack's is scouring the United States looking for the best prices on quality merchandise that will give you the most bang for your buck.
Jacks Sport Shop has been owned and operated by the Doherty family since 1963. For 40 years Jack and Dan Doherty, along with their expert staff have taken great pride in providing user friendly advice to customers about local hunting and fishing conditions. Jack's Sport Shop has always been known to carry Northern Michigan's largest tackle selection. Our prices on rods and reels cannot be beat We also carry a complete line of outdoor footwear and Red Wing Work boots at very competitive prices.
Mission Statement:
Jacks Sport Shop, Inc. Everything Under the Sun for the Outdoors. Jack's Sport Shop Inc. is dedicated to providing the outdoors enthusiast with the very best in products and information to guarantee a rewarding journey to our woods and waters.